Eric's Restaurant
Est. 1991
Operating in the heart of San Francisco's Noe Valley, Eric's has been serving up Fresh & delicious Chinese Hunan-Mandarin Food since 1991.
Eric's is proud to be serving the Noe Valley neighborhood since it's inception in 1991. When it comes to delicious Chinese food we strongly believe in using only the freshest ingredients and produce. We love our customers and we want them to love us back. Please come by and check us out next time you pass by Noe Valley.
"We look forward to you dining with us."
Phone
(415)-282-0919
Location
1500 Church street
San Francisco, CA, 94131
Hours
Mon-Thurs 11am–9:30pm
Fri 11am–10:00p
Sat 12pm-10:00pm
Sun 12:30pm-9:30pm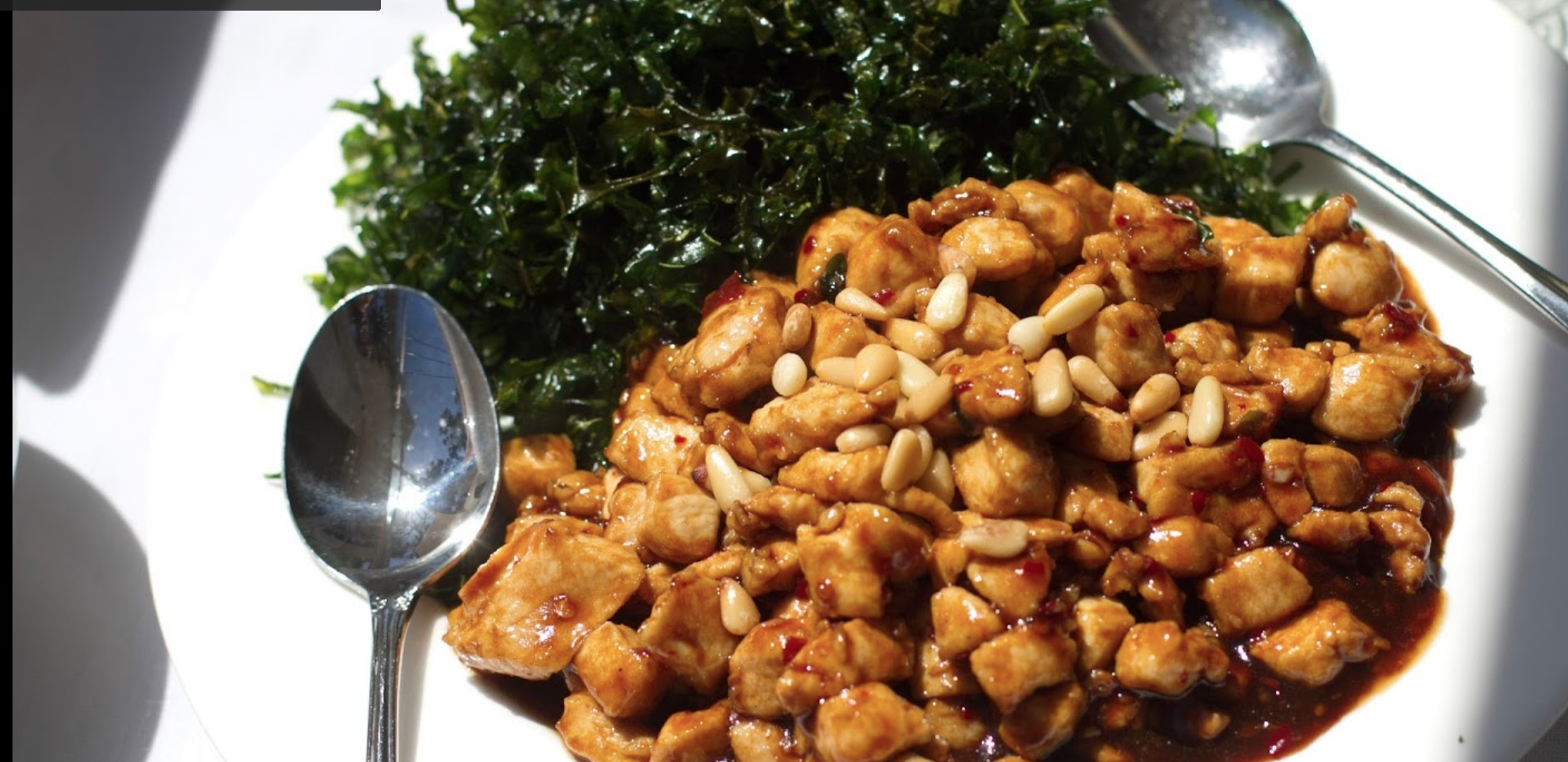 Note:
Served with Soup of the Day (11am – 3pm), Mon-Fri (except Holidays) (12pm -3pm) Sat
$

9.75
Mango Chicken, Beef or Tofu
(spicy)
$

9.25
Kung Pao Chicken
(spicy)
$

9.25
Assorted Vegetables Chicken
$

9.25
Beef with Black Bean Sauce
$

9.75
Assorted Vegetables & Prawns
$

9.25
Sauteed String Beans
$

9.25
Twice Cooked Pork
(spicy)
$

9.25
Eggplant with Spicy Garlic Sauce
(spicy)
$

9.75
Cashew & Broccoli Prawns
$

9.25
Cashew & Broccoli Chicken
$

9.25
Curry Chicken
(spicy)
$

9.75
Chicken w/ Snow Peas & Mushroom
$

9.25
Beef with Snow Peas
$

9.75
Sweet & Sour Chicken
$

9.75
Sweet & Sour Shrimp
$

9.25
Ma Po Bean Curd
(spicy)
$

9.25
Szechwan Pork
(spicy)
$

9.75
Fresh Tofu with Vegetable
$

8.50
Fried Crab Meat Rangoon (6)
$

7.50
Vegetarian Egg Rolls
$

7.75
Drums of Heaven (5)
$

10.95
Combination Plate (for two)
Egg roll, crab meat Rangoon, pot stickers, drums of heaven
$

8.75
Salt & Pepper Tofu
(spicy)
$

9.75
Steamed Dumplings (8)
$

10.75
Eric's Prawn Salad
(spicy)
$

8.50 small /

$

10.95 large
Hot & Sour Soup
(spicy)
$
8.50 small /
$
10.95 large
$

9.25 small /

$

11.50 large
Sizzling Rice Soup
$
9.25 small /
$
11.50 large
$

8.50 small /

$

10.95 large
Wonton Soup
$
8.50 small /
$
10.95 large
$

9.25 small /

$

11.50 large
Ocean Party
$
9.25 small /
$
11.50 large
$

8.50 small /

$

10.95 large
Assorted Vegetable Soup
$
8.50 small /
$
10.95 large
$

12.50
Shrimp & Spicy Garlic Sauce
(spicy)
$

12.50
Prawns with Black Bean Sauce
$

12.50
Kung Pao Prawns
(spicy)
$

12.50
Sweet & Sour Prawns
$

12.50
Assorted Vegetable Prawns
$

12.50
Orange Beef
(spicy)
$

12.50
Mongolian Beef
(spicy)
$

11.75
Beef with Snow Peas
$

11.75
Mushroom & Bamboo Beef
$

11.95
General Tso's Chicken
(spicy)
$

11.95
Five Taste Chicken
Freshly battered & fried, in a sweet & sour-based sauce (spicy)
$

11.75
Shanghai Chicken
Minced breast with pine nuts in our chef's special sauce (spicy)
$

11.75
Governor's Chicken Kew
Boneless chicken with vegetables in a spicy sauce (spicy)
$

11.75
Sesame Chicken
Sauteed chicken on carrots, onions, squash & topped with sesame seeds
$

11.75
Spicy Chicken with Fresh Basil
(spicy)
$

11.75
Mango Beef or Mango Chicken
(spicy)
$

13.25
Portabella Mushroom Beef/Chicken
$

13.95
Beef & Scallops
Tender beef & scallops, served on a sizzling plate
$

12.50
Sesame Beef
Crispy beef braised in Szechwan sauce (spicy)
$

12.25
Hunan Lamb
Spring leg of lamb with leeks, red peppers & garlic (spicy)
$

12.95
Mango Prawns
(spicy)
$

13.75
Portabella Mushroom Prawn
$

15.75
Eric's Salmon Special
$

13.25
Emperor's Prawns
Freshly battered deep-fried prawns in a five-taste sauce (spicy)
$

13.75
Eric's Tiger Prawns
(spicy)
$

13.25
Hunan Fish
Battered slice rock cod in a light sweet sauce (spicy)
$

13.25
Rainbow Fish
Sauteed diced rock cod with bell pepper & pine nut in white garlic sauce
$

12.25
Spicy Smoked Pork
Hunan smoked pork with baby garlic root & leek. Sauteed in a soy-based sauce (spicy)
$

12.50
Eric's Spicy Eggplant
Eggplant with chicken, shrimp, basil in our special spicy sauce (spicy)
$

13.25
Ocean Garden
Fresh prawns, scallops, fish & clams with garden veggies
$

13.95
Scallops with Szechwan Sauce
Scallops prepared in soy-based garlic sauce (spicy)
$

16.25
Clams with Black Bean Sauce (spicy)
$

11.50
Broccoli & Cashew Chicken
$

11.95
Snow Peas Moo Goo Chicken
$

11.50
Kung Pao Chicken
(spicy)
$

11.75
Sweet & Sour Chicken
$

11.50
Eric's Spicy Chicken
(spicy)
$

10.95
Szechwan Pork
(spicy)
$

10.95
Sauteed String Beans
$

10.95
Ma Po Bean Curd
(spicy)
$

11.75
Shanghai Tofu
(spicy)
$

10.75
Vegetarian Delight
$

10.75
Eggplant w/ Spicy Garlic Sauce
(spicy)
$

10.75
Family Style Bean Cake
(spicy)
$

10.75
Buddha's Delight
(spicy)
$

10.75
Broccoli w/ Spicy Garlic Sauce
(spicy)
$

10.95
Mixed Mushrooms, Pea Pods & Water Chestnuts
$

10.75
String Beans with Bean Curd
$

10.75
Hoisin String Beans
$

10.75
Fresh Broccoli with Jade Tofu
$

11.50
Asparagus with Black Bean Sauce
$

11.25
Spicy Smoked Bean Curd
(spicy)
$

12.75
Kung Pao Meatless Chicken
(spicy)
$

12.75
Broccoli and Cashew Meatless Chicken
$

12.95
General Tso's Meatless Chicken
(spicy)
$

12.95
Orange Meatless Chicken
(spicy)
$

7 glass /

$

26 bottle
Votre Sante, Pinot Noir, Sonoma Coast
light elegant texture with bright cherries, raspberries & earthy minerals
$

6 glass /

$

22 bottle
Campo Viejo, Tempranillo, Spain
Ripe blackcurrant & berries on the nose with deep, red violet color & fruit forward flavor
$

7 glass /

$

26 bottle
Columbia Crest Grand Estates, Merlot, Columbia Valley
Graceful balance, creamy cherry & spice flavors which linger gently on the enticing finish
$

6.50 glass /

$

24 bottle
Cupcake, Malbec, Argentina
Lush, full-bodied, concentrated with ripe red & black fruit & nicely integrated oak influences
$

8.50 glass /

$

32 bottle
Geyser Peak, Cabernet Sauvignon, Alexander Valley
Fruit forward charachters of black cherry with underlying notes of dark chocolate & black pepper
$

8 glass /

$

30 bottle
Zen of Zin, Zinfandel, California
Aromas of violet & toffee followed by notes of jam & ripe fruit
$

9 glass /

$

34 bottle
Seven Daughters, Meritage, Napa Valley
Deep ruby red color with exuberant fruit flavors of blackberry, black cherry and hints of lavender & vanilla
$

4
Imported | Premium
Tsing Tao, Sapporo, Sierra Nevada, Anchor Stream, Heineken
$

3.50
Domestic
Miller Genuine Draft, Miller Lite
$

1.50
Coca Cola | Diet Coke | 7-Up
$

2.50
Calistoga Sparkling Water